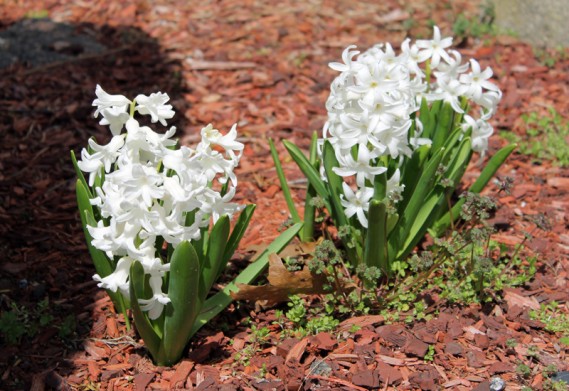 …in my neighbor's garden…
Grocery money is an odd sticking point for U.S. citizens, who on average spend a lower proportion of our income on food than people in any other country, or any heretofore in history. In our daily fare, even in school lunches, we broadly justify consumption of tallow-fried animal pulp on the grounds that it's cheaper than whole grains, fresh vegetables, hormone-free dairy, and such. Whether on school boards or in families, budget keepers may be aware of the health tradeoff but still feel compelled to economize on food – in a manner that would be utterly unacceptable if the health risk involved an unsafe family vehicle or a plume of benzene running through a school basement.
~ Barbara Kingsolver
(Animal, Vegetable, Miracle: A Year of Food Life)
Our food journey continues… On this leg of it I am reading Barbara Kingsolver's Animal, Vegetable, Miracle, an account of her family's first year of eating deliberately, consuming only food grown, raised and produced locally or on their own farm. We are fast becoming (grain-free) locavores!
Locavore – a person whose diet consists only or principally of locally grown or produced food. Farm-to-table.
One thing I learned from this book is that local farmers may well be growing things organically, but some of them cannot afford the fee to be certified organic. And some things labeled "organic" in the grocery store may be only marginally so, cutting corners and following the letter of the law but not the spirit of it.
And so I'm discovering things about food sources closer to home. One day I happened to notice a restaurant in town called the Oyster Club. I suppose I never gave it a second look because I don't care for oysters. But when I did, the tagline on the sign, "farm & sea to table," caught my eye. When I got home I found their website, which states, "the menu, which is written daily, showcases food that travels the shortest distance from 'farm & sea to table,' with seasonality and location determining the day's delicacies. Benefiting from the region's many local farmers and fisherman, Oyster Club features bounty from the sea, pasture raised beef, local produce and artisanal cheeses." Cool!
Today I was at our food co-op and started talking with a woman from Firefly Farms and was astonished to learn that they are raising heritage breeds of chickens, pigs and cows. I had just been reading about the importance of preserving heritage breeds… As their website explains, "The fact that these breeds are too difficult for factory farming is, in our view, the first signal that they are good for people." We bought a frozen Red Ranger chicken from her and I plan to roast it on Monday. (Easter plans at the nursing home with Auntie tomorrow…) We hope to visit the farm this coming week and learn more about their forest raised pigs! Maybe we will soon need to buy a freezer.
Things have been coming along around here as we continue to heal and to pick up the pieces of our lives. There are more good days than bad days now, and we just had a wonderful two-day visit from Tim's cousin Allegra. We are also looking forward to a trip to visit our kids and celebrate our anniversary in May.