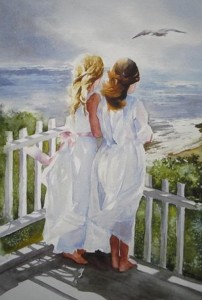 My name is Barbara and I live very near the sea in the little blue state of Connecticut, with my earth mate, Tim. My husband's flawless grasp of logic and my sense of wonder together keep us balanced somehow.
I feel the pull of the seashore and the woods and the moon, and delight in the light of dawn and dusk. Cats, chickadees, deer, dragonflies, mourning doves and seagulls are my most cherished earthlings.  I've been on a life-long spiritual journey that has had some bizarre twists and turns.  This blog is a tapestry of my random thoughts about things that interest me, a kind of electronic scrapbook and journal.  A place to share some of my collection of quotes and stories about my family and my ancestors.
Emily Dickinson inspires me…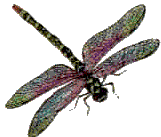 Not knowing when the Dawn will come,
I open every Door,
Or has it Feathers, like a Bird,
Or Billows, like a Shore —
~ Emily Dickinson
♥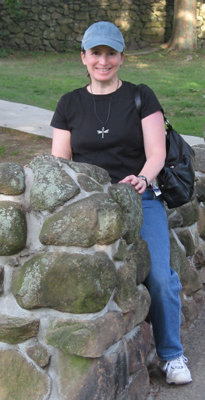 Songwriter Dave Matthews also inspires me.  He seems like another little kid on a spiritual journey who wondered, as I had also wondered, why no one else noticed that the moon was following the car…
Funny when you're small
The moon follows the car
There's no one but you see
Hey, the moon is chasing me!
Walking through the woods
No cares in the world
The world she's come to play
She's all mine, just for a day
~ Dave Matthews
♫
My love for the peninsula of Cape Cod, Massachusetts, began in childhood with monthly visits to my adored grandparents.  When I was very small they lived in Woods Hole, and then they moved to Dennisport.  When Tim was growing up, he would visit his equally adored grandparents in Provincetown.  Our ties to the Cape run deep and strong.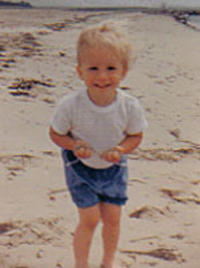 My grandmother took the picture of me to the left.  When I was growing up she would often say to me, sometimes after spinning a tale about her sea-captain father, grandfather or great-grandfather, who came from Norway, "the sea is in your blood."  I believe it is!
On our trips back to Connecticut on Sunday evenings my sister Beverly and I would sleep in the way-back of the station wagon with our dog, Skipper, a Sheltie.  It was on those trips that I noticed and wondered at the moon racing us home!
Header Image: Cape Cod National Seashore, Wellfleet, Massachusetts