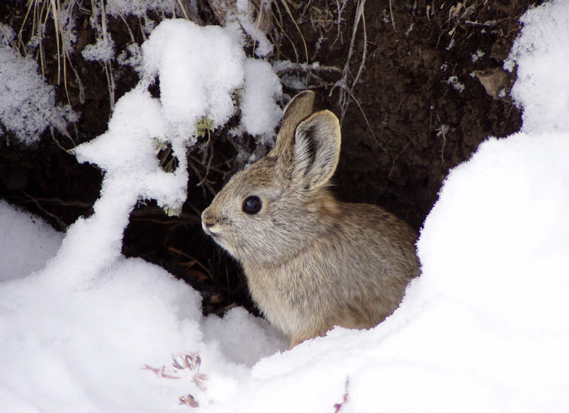 pygmy rabbit by H. Ulmschneider (BLM) & R. Dixon (IDFG)
This darling little grazing herbivore lives out west, where I have yet to go, and makes her nest inside of a burrow which she digs out for herself.  There has been a flurry of activity in our little nest, too.  The "new" barista has arrived!
Ever since November when his brother spoiled us by making soy lattes for us every morning, Tim has been on the lookout for an opportunity to purchase a barista secondhand.  He finally located a great deal in the city of New York, of all places, and mobilized our daughter, who lives there, into procuring it for him.
Larisa would do anything for her papa and so she made an appointment with the seller and went to pick up the barista and all of its accessories.  As she puts it, the buses were not working in her favor that day and she wound up carrying the heavy appliance for ten blocks.  When she arrived at the lobby of her six-story walk-up, completely worn out, she called boyfriend Dima to come downstairs and carry it up the stairs for her!
Then it was up to us to plan another expedition to the big city to pick up the barista.  This past Saturday turned out to be the best time for all concerned so we rented another car and returned to New York for the second time in the space of a month.  But it was a great excuse for another visit and we enjoyed a pleasant afternoon playing a new (to us) card game, Dominion.  Dima & Larisa patiently taught us all the rules and by the time we caught on it was time to leave.
The past couple of days our nest has been thrown into a state of disarray as we debated the most logical place to keep this new prized possession.  Other small appliances have been moved here and there to make the best use of available outlets and faucets.  A shelf unit has come up from the basement to accommodate the slow cooker collection, and a small table that is now too big for the remaining space has been moved out.  And of course I couldn't rest until I redecorated around all these changes…
Perhaps it would be easier to be a bunny and live on a simple diet of sagebrush.  But I have to admit, these soy lattes are tasting very good!