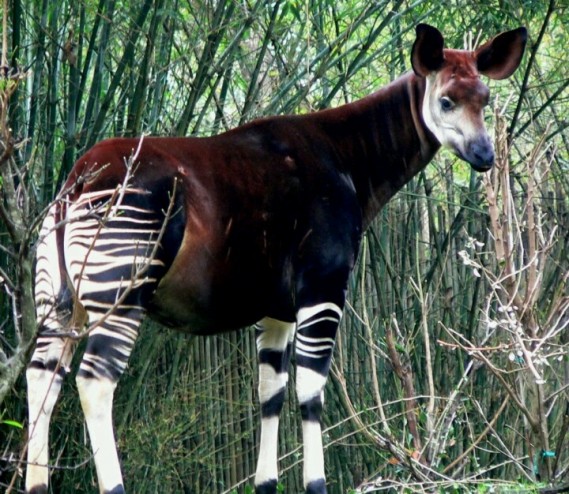 Okapi ~ image found on Pintrest
She is inhumanly alone. And then, all at once, she isn't. A beautiful animal stands on the other side of the water. They look up from their lives, woman and animal, amazed to find themselves in the the same place. He freezes, inspecting her with his black-tipped ears. His back is purplish-brown in the dim light, sloping downward from the gentle hump of his shoulders. The forest's shadows fall into lines across his white-striped flanks. His stiff forelegs splay out to the sides like stilts, for he's been caught in the act of reaching down for water. Without taking his eyes from her, he twitches a little at the knee, then the shoulder, where a fly devils him. Finally he surrenders his surprise, looks away, and drinks. She can feel the touch of his long, curled tongue on the water's skin, as if he were lapping from her hand. His head bobs gently, nodding small, velvet horns lit white from behind like new leaves.

It lasted just a moment, whatever that is. One held breath? An ant's afternoon? It was brief, I can promise that much, for although it's been many years now since my children ruled my life, a mother recalls the measure of the silences. I never had more than five minutes' peace unbroken. I was that woman on the stream bank, of course, Orleanna Price, Southern Baptist by marriage, mother of children living and dead. That one time and no other the okapi came to the stream, and I was the only one to see it.

~ Barbara Kingsolver
(The Poisonwood Bible)
When I stumbled across this picture of an okapi on Pintrest it brought to memory this passage In Barbara Kingsolver's amazing book, The Poisonwood Bible. It stuck with me because I had a similar experience with a stag when I was little, a moment of transcendence, when time seemed to stand still for this six-year-old.
I was introduced to Barbara Kingsolver's writing by a physical therapist who was coming to the house regularly to work with my dad. One morning the three of us were sitting around the table, waiting for Papa to finish eating his late breakfast. Her name was Betty-Jean, which reminded us of my mother, who was called Betty-Jo by her parents. We fell into a conversation about my mother's love of nature and Native American culture.
Papa mentioned a visit he and my mother had made to the Mashpee Wampanoag tribe on Cape Cod, and that he had inadvertently offended a young man when he "stepped into his circle." I wasn't sure what he meant and he had trouble trying to explain it to me. Betty-Jean thought perhaps it had something to do with a vision quest. "What's a vision quest?" I inquired, full of curiosity.
The conversation meandered around for a bit after that, but before Betty-Jean began her session with my father, she asked me if I was familiar with Barbara Kingsolver. I had never heard of her until then, so she said she thought I would like her book, Animal Dreams. I ordered it as soon as I got home that night and have been devouring her books ever since. They way she weaves spiritual journeys with nature resonates with me deeply.