Metal detecting is an absorbing hobby for the history buff, coin collector, or wayfaring explorer.  Our friend Paul, the Connecticut Dirt Fisher, is all of these.  Besides coins from every period of American history, he has found many other assorted relics from the past, including an old pencil sharpener, belt buckles, shotgun casings, toys made of lead, and a wax seal.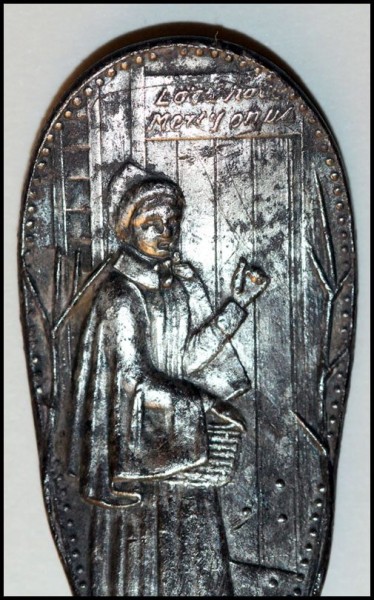 And now he has found something of much personal interest to me, a souvenir spoon, dating from about 1891.  The spoon portrays an interpretation of my 10th-great-grandmother, Mayflower passenger Priscilla (Mullins) Alden, knocking on a door inscribed with the words, "Lord have mercy on us."  Priscilla is also Tim's 10th-great-grandmother – yes we're distant cousins!
Americans began collecting these engraved souvenir spoons depicting historical events in the 1890s and the "craze" lasted for about thirty years.  I seem to have one in my possession, which came out of a box of family keepsakes, but I have no idea of its history or who it belonged to.  It has an engraving of the Mayflower on the handle.  Another mystery for me to investigate…
Please enjoy the following video as Paul brings us along on one of his digs!