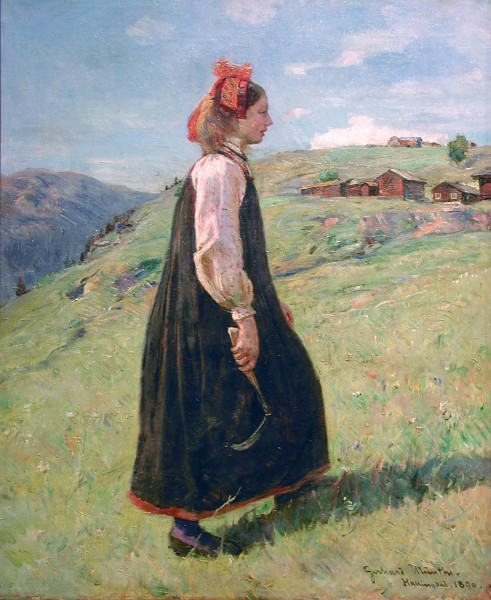 "Dairymaid" by Gerhard Munthe (1849–1929)
It seems to happen every year in the month of May – the ancestors begin calling again – do some more research, they beckon from the past, do some more research…   It begins around Mothers Day, so I am convinced my late mother is egging them on.
In the late 1990s after years of hunting, I found a record of a second marriage for my Norwegian ancestor, Martin Thompson.  He had married his housekeeper late in life and after his first wife died, a fact I don't recall anyone ever mentioning before.  Anyhow, my grandfather had told me that Thompson was Americanized from what sounded like (and turned out to be) Tønnesen.  This marriage record said that Martin's parents were John and Dorothy and that he was born 23 July 1818 in Brevig, Norway.  John and Dorothy???  Didn't sound at all Norwegian to me…
Meanwhile, my sister and brother-in-law were living in Sweden and my brother-in-law offered to hop over to Norway to do some research for me, something he excels at.  He found that Brevig is now Brevik, a little seaside town in the county of Telemark, and sure enough, Ingebrigt Martinus Hansen, my 3rd-great-grandfather, who became Martin Thompson in America, was born there on 23 July 1818 to Hans Tønnesen & Dorthea Larsdatter. (John & Dorothy!)  None of them were using surnames, they were all recorded with patronymics.  Hans and his four brothers were sailors, and their father, my 5th-great-grandfather, Tønnes Ingebretsen, was a ship's carpenter.
And that's about where the trail ended for more than a few years…
But now through the magic of the internet and Ancestry.com, yesterday I traced back to my 6th-great-grandmother, Anna Dorthea Torbiornsdatter, who was born in 1735 in Arendal, a seaside town south of Brevik, in the county of Aust-Agder.  I wonder what her life was like.  She gave birth to six children, and the firstborn, Anne Lisbeth, died in infancy so her name was given again to the next baby.  Then came Ole, Tønnes (my 5th-great-grandfather), Kirstine and Nicolai.  Tønnes is the one who was born in Arendal and relocated to Brevik, where he died.  There is so much more I want to know about Anna Dorthea – for some reason, she is the one calling me now!